Draw with accuracy and speed.
Quickly align new or existing objects either to a grid, points, or path edges. Alternatively draw freehand bezier paths using the brush tool. Select, scale and rotate hundreds of objects with high performance in real time. Cutout elements of artwork, photographs or patterns with masks.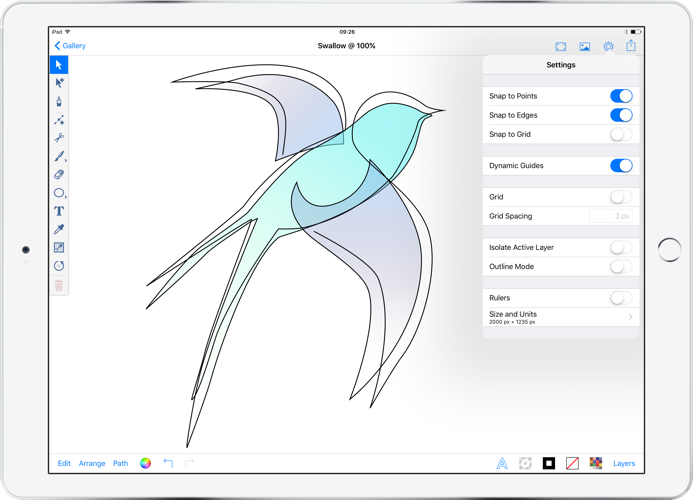 Flexible typography effects.
Position text at any angle or to follow along paths. Apply multiple effects to text, with stroke, fill, shadow and opacity all dynamically adjustable. If the over seventy built in fonts don't quite fit your design, you can import any of the millions of OpenType and TrueType fonts available.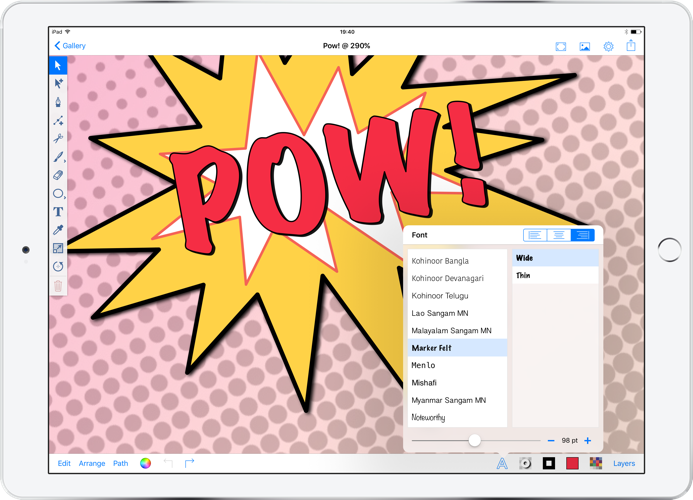 Take control with unlimited layers.
Feel free to add as many or as few elements in each layer to organise your drawings. Rename, rearrange, delete, hide and lock layers as you draw. Isolate the active layer for easy editing. Adjust each layers transparency independently to get your ideal composition.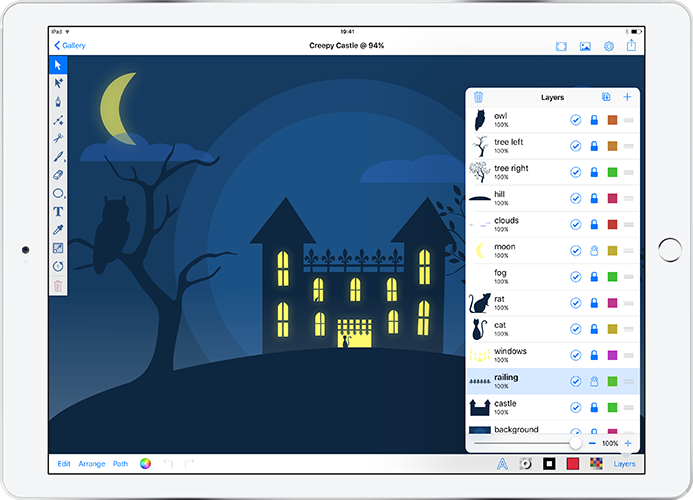 Powerful editing at your fingertips.
Easily manipulate single or multiple elements with powerful scale and rotate tools. Associate individual elements into groups. Interactively edit gradient fills on the canvas. Perform a range of Boolean operations on paths, including Unite, Intersect, Exclude and Subtract Front.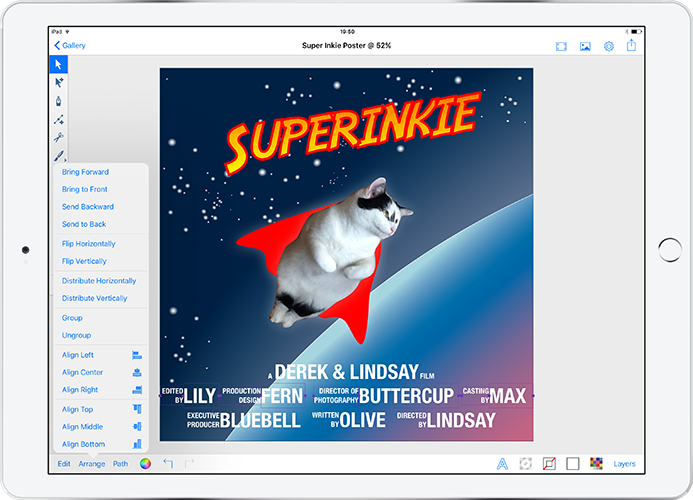 Colors to match your imagination.
Picking the perfect color is easy with the freedom of the expressive color wheel. Or modify colors using RGB and HSB sliders. Enter the hexadecimal value to precisely match existing artwork colours. Sample colors using the dropper. Store and recall colors from the swatch library.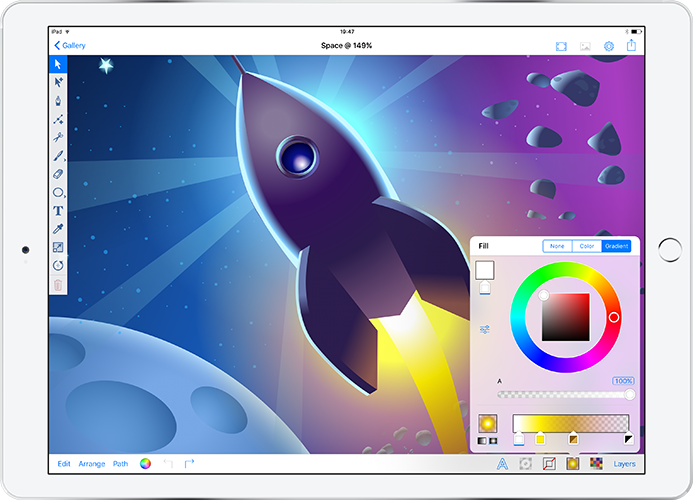 Import, export and sharing.
Import drawings from desktop vector applications as SVG and include photos directly from your camera roll, or import PNG and JPEG images from Dropbox. Export your drawings for sharing or importing into other apps as SVG, PDF, PNG and JPEG using email or Dropbox. Send drawings as photos directly to your camera roll.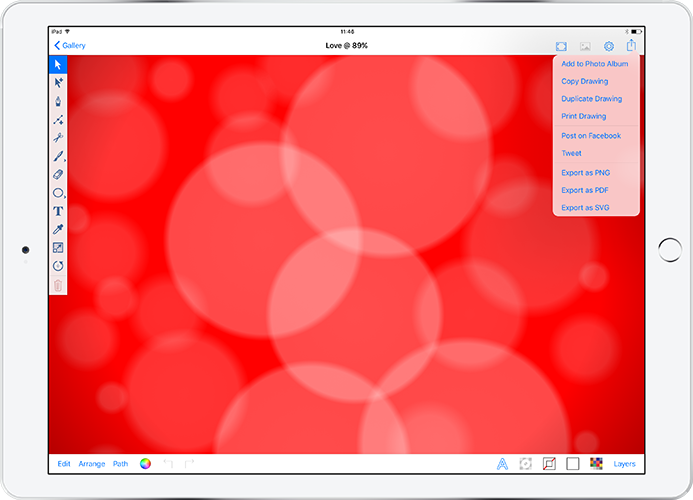 Apple Pencil.
Inkpad works great with the Apple Pencil, including double-tap on the 2nd generation model.

Quick tour.
Layers, text editing, vector controls and the pen tool.
Superinkie.
See our cat Inkie transformed into a superhero in 30 seconds.
Creepy castle.
Take a peek at how to build up a spooky scene full of little details.
Praise for Inkpad.
Some of the kind feedback received in emails and App Store reviews.
"Works perfect on latest iPad Pro, Apple Pencil."
"It's really beautiful to use with an iPad Pro."
"Inkpad is one of the killer apps for the iPad."
"Inkpad is my favorite graphics app on any platform. Inkpad is just the right balance of enough power without being too complicated."
"If you've worked with Illustrator or Inkscape, this is the vector drawing app to download for your iPad. Especially nice with the iPad Pro with Apple Pencil."
"I love this vector drawing app for its easy-to-use interface and pared-down tool bar. It covers the essentials perfectly and the developers are very responsive to questions."
"Inkpad is my main vector design tool for mobile. This is the app that Adobe Draw should be."
"Thank you guys, I use this app all the time."
"If you used to work with Inkpad in the past you should get this app to continue working with it."